Tengo Sabor is a 2001 rumba album by Christian group Orquesta Querubin.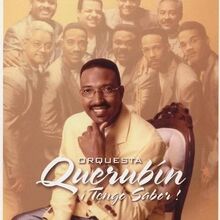 While not all their songs are rap, there is rap on 2 songs - "Mi Morada" (briefly) and "Abre Tu Corazon," an actual rap song, but without beats, so in many ways this is rumba-rap.
Track listing
Esperante
Seamos Differente
Mi Decision
Abre Tu Corazon
Tengo Sabor
Eres Fiel
Mi Morada
Yo Adoro Asi
Donde Esteran
Note: this group is composed of black people from Puerto Rico, some of who are directly of African immigrant ancestry and consider themselves black.
Contrary to idiocy, black people who live in South/Central America, Mexico, Puerto Rico and Cuba do consider themselves black, and will get mad if you are racist to them.
Ad blocker interference detected!
Wikia is a free-to-use site that makes money from advertising. We have a modified experience for viewers using ad blockers

Wikia is not accessible if you've made further modifications. Remove the custom ad blocker rule(s) and the page will load as expected.