Ryan Kelly Moreland also known By His Fans As RKM Legend or Da MoCity God Is a signed recording artist in Houston, TX to Jam Down Records (which was famous for putting Lil Keke on back in the 90's) RKM Legend is the Lil cousin of the late Houston Pioneer of Screwed and Chopped Music DJ Screw. RKM Legend was born in Missouri City, TX also known as Mo City or "tha 13" RKM Legend music career started at the age of 3 when he would listen to artists such as Michael Jackson, Tupac, Biggie Smalls, and more.
Growing up RKM Legend was the youngest of 4, sister, Janet Moreland brothers, James & Donte Moreland. Parents Marva Taylor & Anthony Moreland. At the age of 3 RKM Legend would also begin dancing like Michael Jackson, singing, and rapping.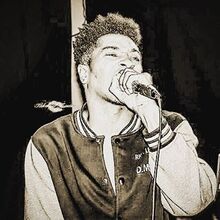 Ad blocker interference detected!
Wikia is a free-to-use site that makes money from advertising. We have a modified experience for viewers using ad blockers

Wikia is not accessible if you've made further modifications. Remove the custom ad blocker rule(s) and the page will load as expected.