LBC Crew

Origin

Long Beach, California, United States

Genre

Years active

1995-1996

Label

Doggystyle (1995-1996)
Death Row (1995-1996)

Associated acts

Past members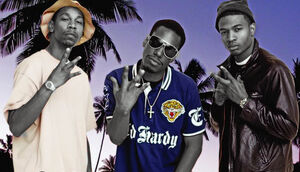 LBC Crew was an American hip hop group from Long Beach, California. The group was formed by rappers Techniec, Bad Azz and Lil' C-Style in 1995. Big Tray Deee joined the group later. LBC Crew signed to Doggystyle Records and Death Row Records with the help of Snoop Dogg, and recorded the album Haven't You Heard. The group made their debut with the single "Beware of My Crew" in 1995, which was included in the soundtrack of the film A Thin Line Between Love and Hate. However, royalty disputes broke out between Snoop Dogg and Lil' C-Style, with the latter claiming that he was not getting paid enough for his work. The argument was never settled, and C-Style ended up destroying the original tape of the group's debut album beyond repair. The group broke up in 1996 without releasing any additional material.
Bad Azz embarked on a solo career immediately after the group's dissolution, and has had the most success out of the group's members. Lil' C-Style and Big Tray Deee have both released solo albums, while Techniec sole release was a collaboration album with L's in 2011. In 2011, LBC Crew's long-lost debut album Haven't You Heard was officially released on WIDEawake and Death Row Records. 
Discography
Edit
Ad blocker interference detected!
Wikia is a free-to-use site that makes money from advertising. We have a modified experience for viewers using ad blockers

Wikia is not accessible if you've made further modifications. Remove the custom ad blocker rule(s) and the page will load as expected.